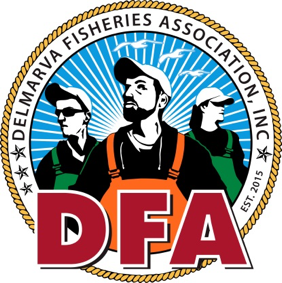 About Our Logo
The DelMarVa Fisheries Association logo aspires to represent the hard-working men and women of the seafood industry and the optimism in DFA's mission to defend, protect and enhance the commercial fishing industry in the Delmarva region of the United States for present participants as well as future generations through all legal means - while maintaining healthy and sustainable stocks of fish.   The logo centers on the seafood harvesters, just as the heart of DFA's purpose is to ensure and enhance the livelihoods of the region's watermen and their families.  
Our distinctive logo was created by artist/designer Ramon Matheu in 2016.  Read more below to learn about the artist.
About the Artist
Ramon Matheu is an Eastern Shore native, having grown-up in Salisbury, and now resides on Kent Island in Queen Anne's County with his family. The Chesapeake Bay and surrounding areas provide Ramon with an abundance of beauty, nature and wildlife which inspire many of his artistic creations. He also pulls creative influence from his love of Maryland, its people, environment, landmarks and cultural traditions.  If you would like to see more of Ramon's work, please visit him at www.ramonmatheu.com.