Asphalt-tainted oyster reefs in Virginia to be removed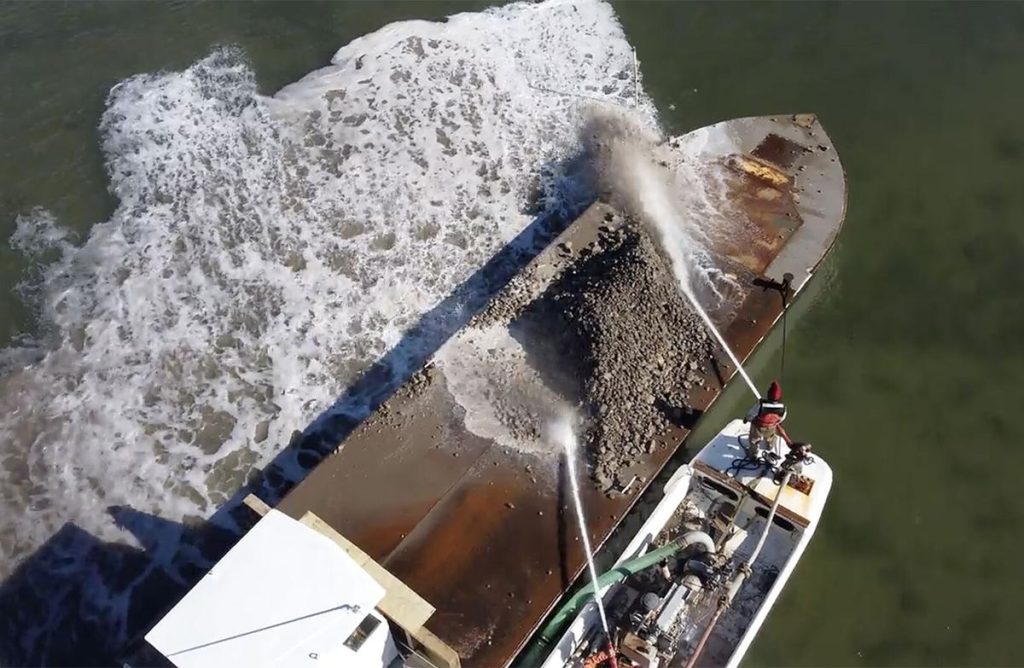 Bay Journal, September 29, 2022, by Timothy Wheeler
Those oyster reefs built in Virginia's Lynnhaven River with chunks of asphalt, bricks and metal wire mixed in are finally going to come out.
The Virginia Marine Resources Commission had ordered the Chesapeake Bay Foundation back in July to remove all three reefs after finding they contained polluting and potentially harmful materials. Two of the reefs also had exceeded their authorized size, in one case burying part of an existing sanctuary reef relied on to produce new juvenile oysters.
The Bay Foundation had joined with Lynnhaven River Now earlier this year to create new oyster reefs in the river, one of five Bay tributaries in Virginia where the state has pledged to complete large-scale revival of oyster habitat by 2025. The Lynnhaven River group handled the construction of the reefs using crushed recycled concrete, much of it donated by the city of Virginia Beach, while the foundation was to seed each one with a layer of juvenile oysters.
Shortly after work began, waterfront residents reported wire and asphalt atop the reefs.  VMRC inspectors confirmed the complaints and on June 2 ordered all work stopped. The Virginia Institute of Marine Science then detected toxic polyaromatic hydrocarbons in asphalt retrieved from the reefs.  Amid growing public and political outcry, the commission ordered the Bay Foundation to completely remove the reefs.
In response, the foundation submitted what it called a "science-based" alternative, proposing to clean unauthorized materials from two of the reefs and remove just one. That approach, the group argued, would "protect water quality and habitat while allowing for these reefs to remain in place to support thriving oyster populations."  Otherwise, they said, removing all 4,200 tons of recycled concrete could cost from $1 million to $2.5 million.
On Sept. 9, the VMRC rejected that alternative and gave the Bay Foundation until Sept. 23 to submit a detailed plan, including signed contracts to have the reefs dredged up from the bottom of the river.
Early this week, Kenny Fletcher, a foundation spokesman, said the group is "working with marine contractors and others to address the Lynnhaven oyster reefs as VMRC has directed." He offered no other details.
Stay Connected - DFA Social Media