New Maryland crab regulations are in place to maintain crab abundance in the bay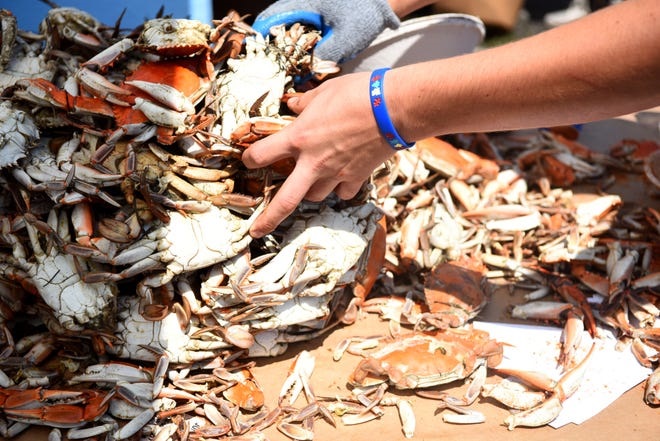 July 5, 2022 – WMDT
MARYLAND – The Maryland Department of Natural Resources has announced limits on the number of crabs that can be harvested this season in the Chesapeake Bay.
Some of those regulations are on the male crabs for commercial fisheries on how many bushels they can catch. Limits just began in July so I spoke with one local fishery and they tell me though the regulations haven't impacted them yet they aren't happy.
"Do I personally agree with the regulations? No, I do not, I personally do not agree with the regulations," says Captain Robert Newberry with Delmarva
Captain Robert Newberry with Delmarva Fisheries Association is not happy with the new crab regulations. The Department of Natural Resources explains why these regulations are in place.
"We have to control the harvest so that there are enough crabs remaining in the bay to spawn successfully to allow for another generation of crabs to come back to the bay," says the acting Director for the Department of Natural Resources, Michael Luisi.
Some of those regulations include how many bushels of crab fisheries can take home and it varies on the sex of the crab.
"These crab regs right now, they're not affecting them too much…we're not catching many crabs, I mean we're doing alright, the guys are making ends meet," says Captain Newberry.
Though these regulations are set to go into effect, Captain Newberry has other concerns he wants to be addressed:
"I asked a specific question to DNR during the regs (regulations), if they had figured in predation, which is the blue catfish, cownose rays, and straight bass and they said no. If they had figured in the economic side of it, with the way the price of fuel is, the price of bait, everything 4 to 500 percent higher and they said no, and then I asked them a big question, with the pollution we've got in the bay right now," says Captain Newberry.
We asked the Department about any solutions they have to get pollution issues under control.
"A number of environmental factors that come into play when you talk about crab abundance, not only is the water quality a factor but a lot of things eat small crabs. The state of Maryland is working very hard to maintain the health of the Chesapeake bay through runoff controls," says Luisi.
The Department of Natural Resources also tells me they will have workshops in the summer and fall to get a better understanding of how to ensure a better crab season. That includes learning more about juvenile crabs that come here that are then harvested by our local fisheries. Click here to learn more about the specific regulations.
Stay Connected - DFA Social Media