East Coast crab processors welcome new visas for foreign workers but say they need 'long-term solution to survive'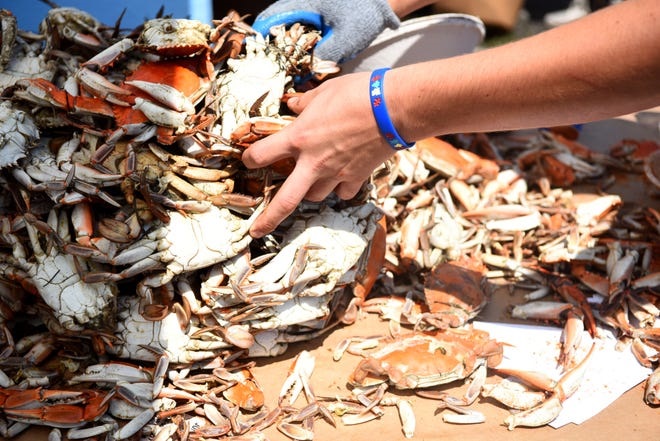 Baltimore Sun – Karine Delafosse – October 17, 2022

The U.S. Department of Homeland Security announced last week that it plans to issue 64,716 additional H-2B visas to give crab processing companies in Maryland and other businesses across the country — such as landscapers and resorts — more access to temporary workers from Mexico and other countries allow them to say that they urgently need.
The additional 64,716 would be available in the federal fiscal year beginning Oct. 1 and would be in addition to the 66,000 visas that DHS can release annually.
"We're taking this on while we wait for a permanent solution," said Bryan Hall, co-owner of GW Hall and Sons in Fishing Creek, Dorchester County.
According to Brooks and other company officials, it's uncertain how many of Maryland's businesses would be granted visas — the demand is often overwhelming — or when the workforce would be available.
The workers, usually women, are used to help pick the crab meat sold in restaurants and supermarkets. Across the country, such seasonal workers are also coveted by hotels, restaurants, landscaping companies, and amusement parks, who say they can't find enough domestic workers.
"It's good news that they are doing it," said sales manager Aubrey Vincent of Lindy's Seafood in Woolford, Dorchester County of the government's announcement. "But we have no idea how they're going to do that. Will they release half now and half in the spring? Spring is the greatest demand for the program."
DHS said in a press release last week that the visas would be available "early in the fiscal year" and that it would issue a regulation on its plans. "The Department of Homeland Security is moving at unprecedented speed to meet the needs of American businesses," Secretary of Homeland Security Alejandro N. Mayorkas said in the release.
It was uncertain exactly when the regulations would be enacted, and the department did not immediately respond to requests for information from The Baltimore Sun.
In the early 2000s, former Maryland Senator Barbara Mikulski, a Democrat, intervened when northern Florida ski resorts and landscapers collected the visas before Maryland crab houses had a chance to apply. She lobbied for a change that split the annual visa allowance of 66,000 into two semi-annual allocations.
East Coast crab processors welcomed the federal government's planned release of new visas to hire foreign migrant workers, but they called it a year-long cure that won't solve recurring labor shortages."We need a long-term solution to survive," said Jack Brooks, co-owner of JM Clayton Seafood Co. in Cambridge, Dorchester County and president of the Chesapeake Bay Seafood Industries Association.
Stay Connected - DFA Social Media