Governor Moore Requests Disaster Aid for Invasive Blue Catfish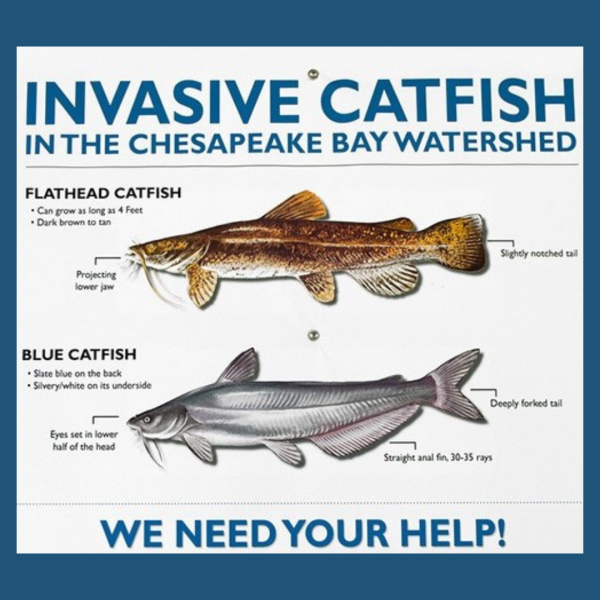 March 20, 2023 – Maryland Association of Counties
Governor Wes Moore is today calling on the federal government to declare the expanding population of invasive fish species—including blue catfish, flathead catfish, and snakehead—to be an ongoing commercial fishery disaster in the Maryland waters of the Chesapeake Bay. The governor sent a letter to U.S. Commerce Secretary Gina Raimondo requesting the declaration under provisions of the Magnuson-Stevens Fishery Conservation and Management Act and the Interjurisdictional Fisheries Act.
"In recent years, the state has become increasingly concerned about the explosion in the abundance of invasive fish species in the Chesapeake Bay, including blue catfish, flathead catfish, and snakehead," said Governor Moore. "It is critical to act now to mitigate the effects of these invasive species and to provide assistance to the commercial fishing industry."
The declaration would qualify Maryland for federal fishery disaster assistance.
Since 2012, the total catch of seven of Maryland's marquee commercial fishery species that share their habitat with invasive fish at some point in their life cycle has declined between 27% and 91%. The dockside value of these species has likewise declined between 12% and 85%. Commercial fisheries—including hard blue crab, striped bass, yellow perch, and others—have brought in an average $64 million yearly in dockside value during that time, making declines a significant loss for Maryland's commercial watermen and the state's economy.
While a direct scientific link between invasive species and the declines is yet to be determined, the Maryland Department of Natural Resources has growing concerns about observed high densities of invasive species, particularly blue catfish. It is likely that negative impacts will occur as these species are known to multiply rapidly, adapt to new environments, and eat a wide variety of prey while preying upon and competing with native species for space and for food.
Scientific indicators that have shown declines in key species include the department's annual Striped Bass Juvenile Index and Blue Crab Winter Dredge Survey, both of which are conducted in coordination with Virginia. Striped bass recruitment has been well below average for four consecutive years, while total abundance of blue crab in the Chesapeake Bay in 2022 was 227 million crabs—the lowest abundance observed since the survey began in 1990. To help protect spawning stock, both states enacted measured but stricter limits on both recreational and commercial catch.
"Maryland, Virginia and other Atlantic Coast states have made wise and measured changes to many of our fishery regulations to protect our iconic species, but we have an emerging crisis on our hands that could undermine those measures," said Maryland Department of Natural Resources Secretary Josh Kurtz. "The impact of invasive species cannot be underestimated, nor can we delay action to address the damage they are causing."
Blue catfish were first introduced in Virginia in the 1970s to create a recreational fishery, but have since spread to tributaries throughout the watershed. Blue catfish are voracious eaters that consume other fish, including catfish, and crustaceans. They out-compete the native species for both habitats and food and pose a threat to key commercial fisheries including blue crab, striped bass, white perch, yellow perch, and American eel.
The Maryland Department of Natural Resources has increased monitoring programs of invasive fish and also urged recreational anglers to target them to help combat their population expansion. Reducing numbers of invasive species of fish is positive for ecosystems and, as an added bonus, both blue catfish and snakeheads are valued as a delicacy. There are no fishing limits on invasive fish, which means anglers can catch and keep any number of them, at any size, during any time of year.
Stay Connected - DFA Social Media